Project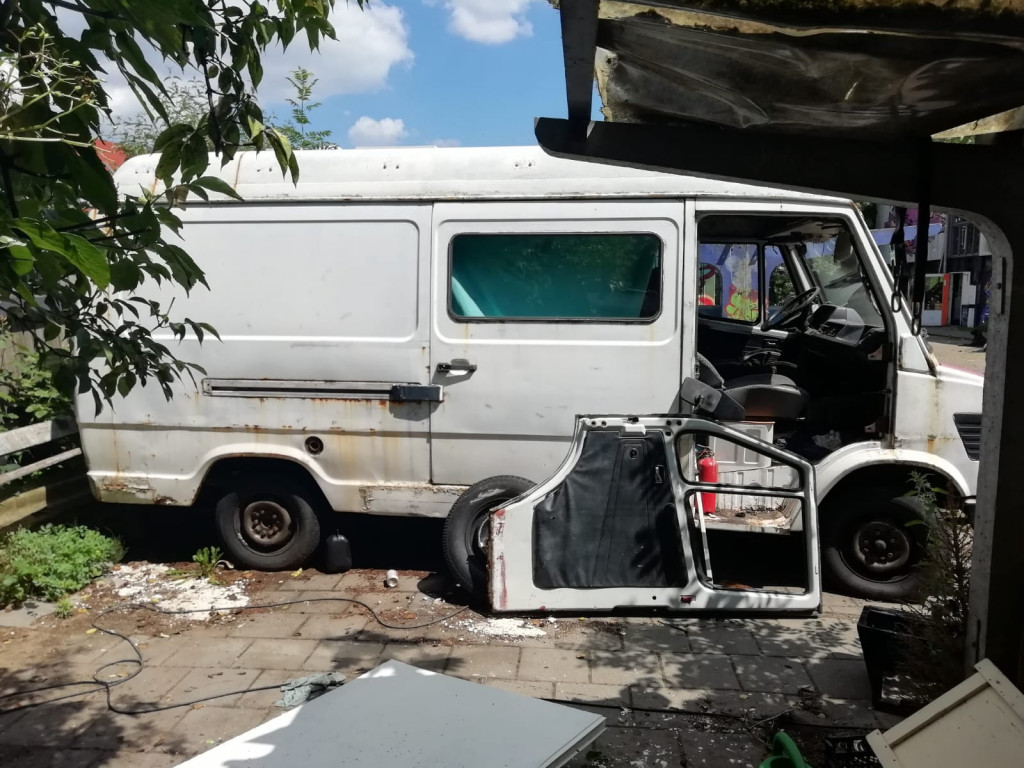 Name: LagMobile
People: collective
Description: fixing up an old van for mobile lagging

LagMobile
Massa rijklaar 2170 kg
Massa ledig voertuig 2070 k
Technische max. massa voertuig 3200 kg
Toegestane max. massa voertuig 3200 kg
Voertuigcategorie Bedrijfsauto (N1)
Speciale doeleinden: Kampeerwagen (SA) Inrichting kampeerwagen
Merk MERCEDES-BENZ
Handelsbenaming 307 D
Datum eerste toelating 04-10-1978
Breedte 198 cm
Wielbasis 335 cm
Lengte 5.20 meter
Nettomaximumvermogen 48 kW
Probably: L serie 3t (602) 307D (53kW)
Mercedes L serie 3t (602) Van 307D (53kW) OM616.937;OM616.939
Mercedes L serie 3t (602) Ch.Cab/Pick-up 307D (48kW) OM616.917
MERCEDES-BENZ T1 Platform/Chassis (602) 307 D 2.4 Submodel:307 D 2.4 Capaciteit:2399 Service:65 HP / 48 kW Cilinder:4 Constructietype:Open laadbak/ Chassis Soort aandrijving:Achterwielaandrijving Motorcode:OM 616.937 Soort motor:Diesel Actieve jaren:1977 - 1983
OM616.916 48 kW (64 hp) << should be that one??? OM616.937 53 kW (71 hp) OM616.936 53 kW (71 hp) OM616.912 63 kW (84 hp)
https://en.wikipedia.org/wiki/Mercedes-Benz_TN
painting process / layers
air compress clean and wipe clean the targeted grinded spot with a cloth and terpetine;
apply the first layer of paint (half lead oxide paint, half boiled lin seed oil, mixed by feel at a good consistency (bright orange);
after the 1.st layer properly dried, repeat the cleaning and apply the second layer of base paint (white paint);
[...]
paints
Synthetic, chlorinated rubber, bituminous, epoxy, polyurethanes and antifouling.
tools to arrange
krik (somewehere in ravel???)
steunen (no clue where they went)
battery charger (+psu) (L)
extension cords
covers
gloves

painting supplies (L)

lights (L)

something to bend thick plate
heat gun (L)
schuurmachine (L)
small tube (L)
co2 (L)
drukvat (L)
paint brushes / rollers (L)
02 sept:
sand
small and longer brushes
ijzermenie https://www.bullstore.nl/tenco-ijzermenie-roodbruin-2-5-liter
naaldbikhamer (needle scaler) https://valkenpower.com/naaldbikhamer-12-naalden.html
siccatief https://www.goedkoopverf.com/bleko-siccatief-10.html
air regulator / vochteruithaler
bouwlamp lampjes
grondverf
lak (kleur?)
tools to build
camera that can go into beams (webcam + long cable + led lights)
tire replacement tool
holle ruimte spuit (vloeistofspuit + extension tube)
materials to arrange
plate to fix carroserie stuff
plate to fix the chassisbalk
paint
tectyl
zinc spray
build a bridge
there is a bunch of stones, which can become a bridge
to fix before apk
DONE make a new wheel lock
clean underside with pressure washer
chassis beams
door
check lights
breaks (l/r the same)
make sure exhaust does not fall
paint underside??
alles smeren
water vullen + ontluchten thermostaathuis (met antiroest / vries spul)
hole left back top
plamuur and paint all holes
vet wiellagers
test all indicator lights and fix them
welding
above front window
rigth back up
in front of fuel tank
DONE right front chassis balk
smeren
gasstangen, scharnieren, wielophanging,
2x linksvoor bij het wiel (boven en onder)
2x rechtsvoor bij het wiel (boven en onder)
1x tussenaslager
fuseekogels
stuurkogels
oliepijl stuurhuis (46.8%20stuurhuis%20L1.5Z.pdf)
fix
lampje gloeien
relay knipperlichten (ergens in lag)
new cable backlights
check all brake lines (remove rust, coat)
Crane
removable H-beam sticking few meters out of the back door with trolley and hinge
Tent / roof extension
Get (waterproof) canvas or canvas like material to build a tenty thing that will protect from rain and cold and extend the space of the lagmobile.
Layout
modular system, with things attached with bolts or clamps, so can be used both for transporting big stuff, and for other things
Electrical system
powerfull electrical system
should be able to power: coffee machine (1600 watts) , soundsystem, power tools etc.
maybe try to build a li-ion pack
put solar panels on the roof
if we get 4x 12 volt (48 volt) lead acid battery's, we can use a ups as a invertor, and we can have >10A 240volt
there is honda generator clones from kipor
driving electrical system
lots of cables are not so good anymore, either patch them up, or redo the whole system
build a new cable tree
schematic: https://cloud.puscii.nl/index.php/s/CwH3Bfe6EwEwHnL
salvage a modern electrical system (switchboxes on a can bus) from some car
SJB = smart junction box
LIN bus ==
SAM module ==
SAM Signal aquisition / activation module
left sam / right sam / rear sam
https://www.snapontools.com.au/__data/assets/pdf_file/0004/19264/Mercedes-Benz_Vehicle_Communication_Software_Manual.pdf
to fix after apk
spray all inside of beams with lijnolie
koelsysteem ontvetten (5% p3 standard) / ontkalken/roesten (10% citroenzuur)??
Coating / rust / metal protection
Metal protection with phosporic acid
According to https://quicksearch.dla.mil/qsDocDetails.aspx?ident_number=8193
type 1
0.68 g / ml
1.59 / 0.68 = 2.34
118ml 85% fosforzuur + 882 ml water makes 1 liter ready to use
for 250 ready to use: 29.5 ml 85% fosforzuur + 220.5 water
type 2
0.2 g / ml
1.59 / 0.2 = 7.95
https://en.wikipedia.org/wiki/Phosphate_conversion_coating
Types of drying oils
Linseed STAND OIL; which is oil that has been heated for several hours inside a vacuum vessel designed for this purpose.
boiled linseed oil, can mean stand oil, or oil with dryers added
raw linseed oil
Paint Additives/pigment
| Names | Drying | Function | Price/kg | Description |
| --- | --- | --- | --- | --- |
| ijzermenie, ijzeroxide, red oxid | average | metal protection | 11,0 | |
| loodmenie, loodoxide | fast | dryer, keeping dry | | traditionally used as dryer in paints, but its toxic |
| zinkfosfaat | | | | |
| manganese blue/ violet | fast | dryer | 121,0 | used a lot as dryer (alternative to lead) |
| zirconium | fast | dryer | | |
| cobalt | fast | dryer | | creates wrinkling |
| graphite | slow | water repellante, lubricant, heat resistant, flexible | 20,- | was used on steam locomotives |
| lithium | | | | |
| zinc oxide | | | | |
ijzermenie = ijzeroxide = red oxide (average drying) https://www.labshop.nl/Webwinkel-Product-127175737/Ijzeroxide-Rood-130-M-medium-1-Kg.html ( 11 E/kg)
loodmenie = loodoxide (fast drying), traditionally used as dryer in paints, but its toxic
zink pigment (medium drying)
zinkfosfaat
manganese blue / manganese violet (fast drying pigment) https://www.labshop.nl/Webwinkel-Product-290241670/Manganese-Violet-1-Kg-gram-(PV-16).html (121 E/kg)
graphite , water repellant / lubricant / heat resistant / flexible / https://www.pcimag.com/articles/83004-graphite-a-multifunctional-additive-for-paint-and-coatings probably delays drying process, cause mostly carbon?
cobalt: dryer, creates wrinkling
zirconium: dryer
manganese: dryer, better low temperature drying,
zinc: wetting agent, pigment dispersion, keeps film open
zirconium: dryer
zinc oxide (white)

lithium

cobalt / manganese + zirconium + calcium = lead replacement % metal based on vehicle solids: 0.03 Co or Mn + 0.2 Zr, 0.1 Ca
manganese and iron catalysts in alkyd paints: https://res.mdpi.com/inorganics/inorganics-04-00011/article_deploy/inorganics-04-00011.pdf?filename=&attachment=1 additives for coatings: http://gen.lib.rus.ec/book/index.php?md5=316E895D03223F090E809791DF632936
http://www.organometal.eu/products/paint-driers/ https://www.artisofficina.org/materials/driers---siccativation-in-oils
Linseed graphite paint
gallon boiled linseed oil + pound of graphite
3.8 liter + 450 gram
500ml + 60 gram
warm should work better
to dry faster can be mixed with "autolakuitharder"
some people say that raw linseed oil is better, but it doesn't harden, and cannot be painted over

put linseed in holle ruimtes with vloeistofspuit

to dry faster: Bleko Chemie Siccatief 10 ( 3 - 5 %) (manganese salts, calcium salts, 2-ethylhexaanzuur,
Removing tectyl
don't want to damage the zinc layer
dry ice blasting (expensive)
put dry ice on it, should get hard (expensive)
use air chisel
leftovers can be removed with diesel / kerosine or something like that
What kinda works to remove rust under tectyl is a combination of the fein with scraper, pneumatic scaler, and pneumatic needle scaler
nuts and bolts
different materials see: https://www.oldtimerrestauratie.com/index.php/materialenkennis/48-de-kwaliteit-van-bouten-en-moeren

https://www.techwinkel.nl/bouten/zeskanttapbout-volledig-draad/verzinkt/zeskanttapbout-volledig-draad-verzinkt-8-8.html

https://www.indi.nl/nl-nl/p/bevestigingsmateriaal/bouten-moeren-draadeinden-etc-/bouten/bouten-metrisch/din-933-zeskanttapbouten/Zeskanttapbout-M8x25-8.8-verzinkt-DIN933-119850?PageNumber=1&VariationTable=true
Needed:
m10 / d17 / 8.8 (din933) voorframebalk 25mm x 12pcs trekhaak m8 any quality, verzinkt dakdragerbevestigingspunten 30mm 24 pcs
plastic pieces
pics
Day 1 monday aug 5
Day2 tuesday aug 6
Day4 wednesday aug 7
Day 5 thursday aug 8
Day 6 friday aug 9
Day 7 saturday aug 10
Day8 sunday aug 11
got a spare enige + gearbox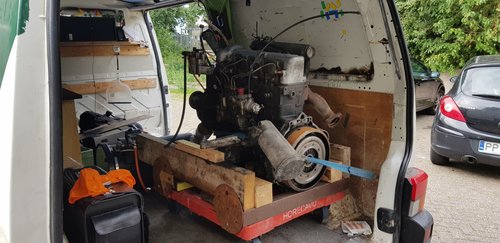 Day9 monday aug 12
painted the floor in cabin
Put a tarp on top cause it was raining
Day10 tuesday aug 13
experiments with acid and paint
welding on front window
welded new steel in the side
sanding left front door
Day11 wednesday aug 14
some chiseling away of tectyl on underside
pressure washing underside
welding thing under side door
Day12 thursdayday aug 15
stuff needed
https://www.aanhangwagendirect.nl/verbindingsdoos-vlakstekker-8x4.html
https://www.wovar.nl/zelftappers-zwart/
https://www.schroevenxl.nl/metalstudschroeven-4-2x13-verzinkt-1000-stuks.html
https://www.schroevenxl.nl/zelfborende-schroeven-flenskop-torx-verzinkt-4-2x13-1000-stuks.html
https://www.schroevenxl.nl/metaalschroeven/zelfborende-schroeven/zelftappers-met-boorpunt-din-7504m-bolkop.html
https://www.jdhtools.nl/product/JDH02950-Assortiment-zelf-tappende-Parkers-750-St-FD6119
https://www.gereedschapland.nl/product/4071/assortiment-zwarte-zelftapschroeven-700dlg
https://www.toolland.nl/bevestigingsmateriaal/pgb-zelftappende-schroef-din7981/din7981c-h.html
din7891c = https://eu.shop.bossard.com/media/product_datasheet/BN_13259_1_Bossard_1.pdf
take from lag