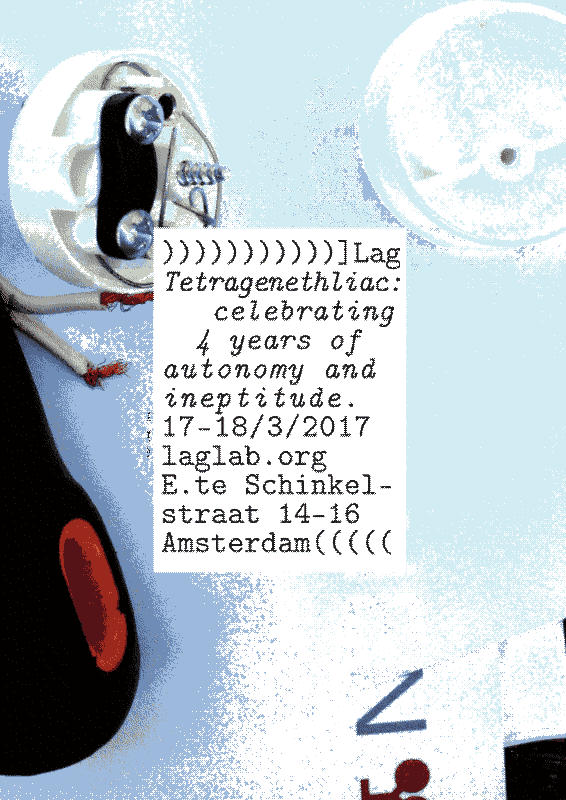 Tetragenethliac
Friday 17th of March
Open from 13.00, program starts at 15.00
15:00 - Phone booths in Athens by Alex Zakkas
What they talk about in/on phone-booths in Athens.
What phone-booths in Athens talk about nowadays.
16:00 - "Have you considered the alternative?" by homebrewserver.club
Signal is often considered an alternative to Whatsapp, but is it really? Why you should gather a group of friends and consider staring into the abyss of self-hosted, federated messaging services. <https://ilu.servus.at/issue9.html> <http://homebrewserver.club>
18:30 - Update on Hackon
Hackon is an event centered around a critical view of how technology plays a role in society. July 14-16, Ruigoord <https://hackon.nl>
19:00 - Food for donation and beers by Brouwvereniging Rotterdam
21:00 - Cyberpunk Imaginaries: Magick, Technology, and the Apocalypse, a discussion with Christian Greer
21:00 - Modular Synthesis Workshop by wotwot
A hands-on introduction to audio synthesis, looking at the the different approaches (subtractive, additive, granular, modal) on actual modular synths. Make some noise!
22:00 - Movie night: Traceroute
Is there anything in nerd culture to save? And what does it consist of anyway? This documentary puts nostalgia next to political economy, with a good dose of irony.
<http://www.monochrom.at/traceroute>
Saturday 18th of March
noise IS/AND/OR politics @ Vrankrijk
18.00: discussion
A public discussion on the political meaning of noise as a deviant and radical space of experimentation in music, and the social contexts that resonate with it. Introduced by the presentation of the last issue of Datacide Magazine by Christoph Fringeli.
<https://datacide-magazine.com/>
?Noise * Politics
22.00: party
!!!Party!!!
Christoph Fringeli (Praxis Records)
Istari Lasterfahrer (Sozialistischer Plattenbau)
Plastic Interior Urynian (Paralyzing Device)
wotwot
Bence (Archaic Inventions)
Bloodhole (Nimatek)
Amen Holmes (Pick 'n' Mix)
Antisocialist (Identity Crisis)
Visualz:
visual [t]error
Sofie
Groente
Mati