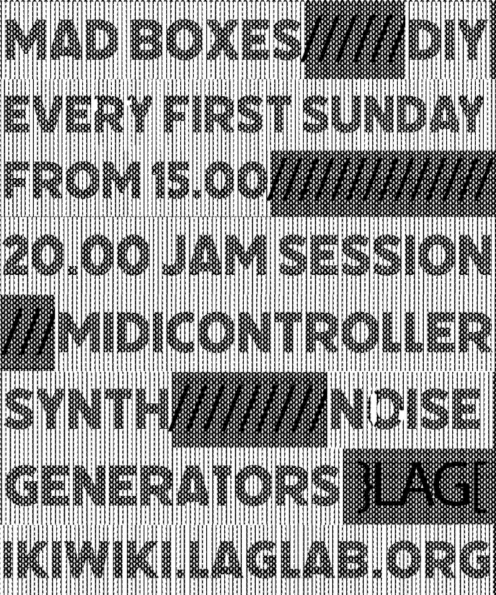 Madboxes
What is about?
Monthly event based on sharing knowledge regard the creation of DIY MIDI controllers, noise boxes, synthesizers and other non musical stuff.
Why is happening?
From the necessity of learning how to build musical instruments and more, in a capitalist society where even your passion has a high cost, expecialy things like electronic music instruments.
When and where?
Is happening every first Sunday of the month at LAG, starting at 15.00PM till late, with a synth jam at 20.00PM.
What to expect?
People working in little groups making different projects of different interest and level, from Arduino's stuff to some basic analog synth. No one is a teacher and no one is a guest, we all share our knowledge together, so it may be that we don't have all the answers to your questions! We can still research things together on internet. We are trying to provide most of the tools you need to create these madboxes, but some specific material as Arduinos, microchips, pots etc... You will need to get it yourself. Donations are more then welcome!
Want to help?
We are lacking of material such pots, faders, buttons, breadboards, soldering material etc... So if you have some of it or some broken stuff with those electronic components you can donate it to lag, we have a donation box in the space for it. The material it can be cheap if ordered from china, but it will take couple of months to arrive, that is why we organize orders together. If you want to join the orders speak to us on IRC or come to LAG. There is also a pad with a list of material that we need, so you could give a look to it and see whether you have some of it. (Link at the end of the page.)
Like the project but don't want/can't come to LAG?
Our projects are hosted on a public page on Git hosted by puscii.nl, so you could do those projects at home and/or use our codes/softwares for your own stuff. If you have some codes that you would like to share you are welcome to share it with us. To do that you will need a puscii account or you can ask anyone in LAG or puscii to upload it for you. To download the projects you don't need any accounts, you can just clone it with Git.
So those Codes? If you want to see, use, share, modify, download and/or upload them, just check our public Git page! Links below.
Links:
Cassa for the components:
6th Dicember 2020: 8 euros.
Planning on making an order just before Xmas.
Credits:
Thanks to dickreckard for the inspiration with a circuit bended machine, to brabo for inspiring the name Madboxes, to SolarFiction for the new flyer, Stoian for teaching basics of electronics and the whole Lag community for the support and making this thing happening in our favorite hacker space.